Is Economics troubling you? Need a little extra help before the next exam? Well – help is here!
Tutoring is available for students of Economics, particularly those in ECON 1010 Introduction to Microeconomics, ECON 1050 Economics in Practice, and ECON 2020 Introduction to Macroeconomics.
This semester, Economics Tutoring will be available in-person (Academic Office Building, open office area, room 220) and also via Zoom—see the schedule below. If you wish to meet online, please download Zoom to your computer or device to make the best use of our tutoring service.
Our Tutor
Aidan Westbrook: awestbro@uccs.edu. Aidan is an Economics major with two years tutoring experience.  He is also president of the Econ Club. 
The Schedule: Tutoring is available at the following times M-F from Sep 13-Dec 10, 2021.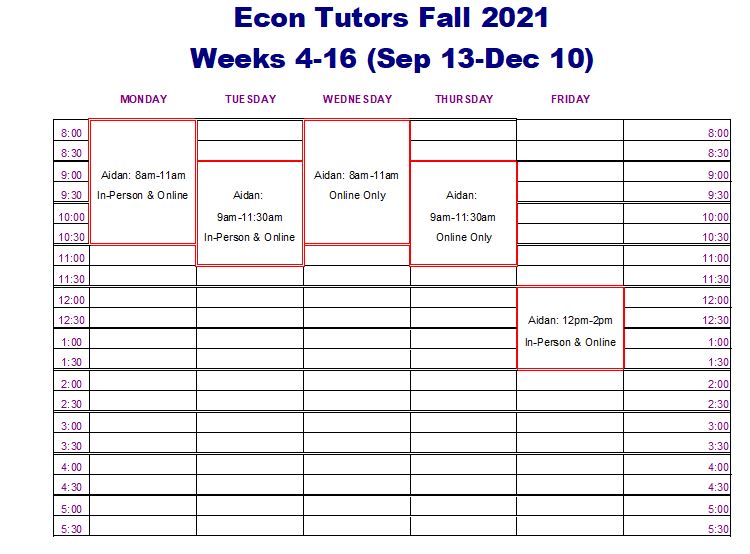 To meet with a tutor:
Please email the tutor to schedule an appointment (it's best to use your UCCS email). 
Note that walk-in, in-person tutoring is available, but those with an appointment will take priority. 
Include the class/topic you wish to discuss in the subject line. 
The tutor will confirm your appointment whether in-person or online. At the appointed time, the tutor will contact you via Zoom using your UCCS email or phone number. 
Be sure to have Zoom downloaded to your computer or device prior to meeting with a tutor if you are meeting online. 
Once you are on the call with the tutor, if you have any technical issues they can walk you through it. They will be able to share their screen and may ask you to do so also.
A few notes:
Tutors are here to assist you in your studies. They are not instructors or professors and do not replace them.
It works best if you come to the tutoring session with specific questions in mind or written down. Be prepared for the tutoring session with some self-study ahead of time. This will help you get the most out of your time with the tutor.
Any questions or concerns about our tutoring program can be directed to our tutor, Aidan Westbrook: (awestbro@uccs.edu) or supervising faculty member, Daniel Driscoll (ddriscol@uccs.edu).